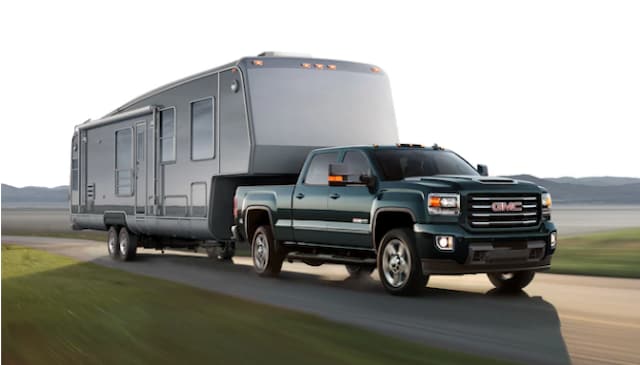 Mighty and strong, GM models are qualified to do some serious towing for you near Delphos! Whether you're relying on the famous GMC pickup series or driving around a Buick SUV our vehicles are dependable rides for your heavy loads. It can be used for the job site or for a weekend getaway. However, knowing what your towing number is can be influenced by a number of factors. We'll break down how your vehicle's towing capacity is developed.
Transmission
Typically, manual is the preferred transmission when it comes to hauling big loads. Fortunately, modern automatics can be just as dependable as the manual transmission. Plus, you need to think about how heavy you have inside the truck/SUV itself. If you plan on doing heavy pulling and on steep inclines, we suggest looking into rides that have a transmission cooler. This is standard on the GMC Sierra 1500. This can create superior acceleration in low gears optimizes automatic transmission fluid temperature for exceptional efficiency and durability.
Axles
Every part of your drivetrain is under stress, no matter how much weight is behind you. When picking a vehicle, you'll need to consider the axle ratios. This term refers to the gears in the truck's differential, which is a device that connects the rear axle to the driveshaft and then the engine. The higher the axle ratio, the more your model can tow.
Engine
Your engine is the heart of your vehicle. Your horsepower and torque are what affect your towing and how your car can manage towing. More torque equates to the ride's ability to tow. For example, the 2018 GMC Sierra 1500 can be equipped for Delphos area drivers with the 6.2L EcoTec engine, which produces 460 lb-ft of torque and 420 horsepower. This will allow you to tow up to 12,500 lbs!
If you're not looking for that much towing ability, consider a different GMC engine or a GM SUV that features a V6 engine. The torque and towing will be less, but will have a considerably better fuel economy.
Brakes
Having the proper brakes for towing is half the battle. Make sure the ride your choosing has durable brakes for the load you plan on carrying. Your ride will have to come to a stop and if the brakes are too weak or small, then your Buick or GMC might not be able to handle the additional burden of the extra weight.
Frame
Another important piece to towing is what the body of the vehicle is made of. That's what handles all the stress of pulling and stopping the trailer behind you. So keep in mind SUVs or trucks that have a tough body-frame. The GMC Sierra 2500HD and 3500HD comes with frame steel strength of 50,000 PSI to handle the heaviest loads.
Visit Our Delphos Area GM Dealership
If you want more specifics that come with your new vehicle, come down to Tom Ahl Buick GMC. We'll be happy to find the vehicle that tows the exact amount that you need. Contact us at (877) 748-4017.