Halloween has finally arrived and we have some fun and exciting ways you can decorate your ride for trunk-or-treating. Check out some interesting ways you can design your trunk and you'll definitely be the most favorite trunk in the lot.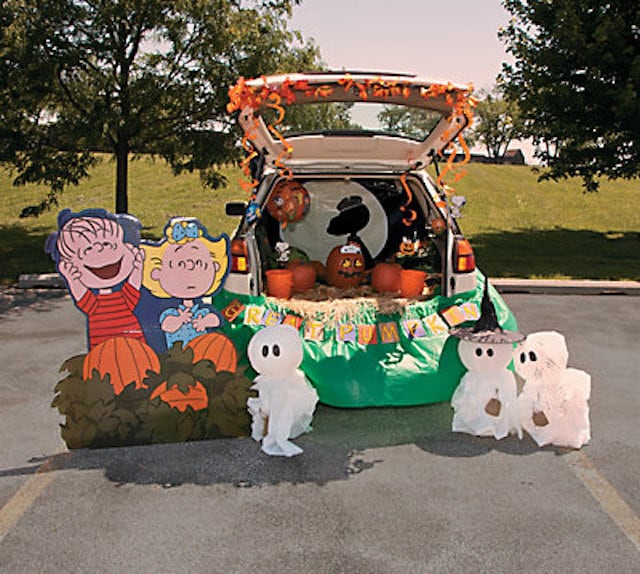 The Great Pumpkin with the Peanuts®
Parents and kids can rejoice, the great big pumpkin is here! The Peanuts® are here to celebrate Halloween with all of you. To achieve this look, pop the hood of your car and:
Hang up background of Snoopy.
Attach the fall leaf light garland, lanterns and swirl decorations on the top of the trunk
Line the inside of the trunk with a grass table skirt and sprinkle faux fall leaves for a festive fall look
Add the green table skirt to the base of the vehicle and secure with tape.
To make the banner, cut cardstock rectangles to fit the bulletin board letters. Glue the bulletin board letters to the cardstock. Glue the cardstock banners to a length of twine. Hang the banner onto the base of the vehicle.
To make the ghosts, tape around the lantern to the top of a cylinder lantern. Cut a length of the tablecloth to fit on top of the lanterns. Tie a piece of string around the neck of the ghost to hold the tablecloth in place. Use a permanent marker to draw the details onto the ghosts. Decorate the ghosts by stapling on trick-or-treat burlap bags and a witch hat.
Place candy inside the trunk!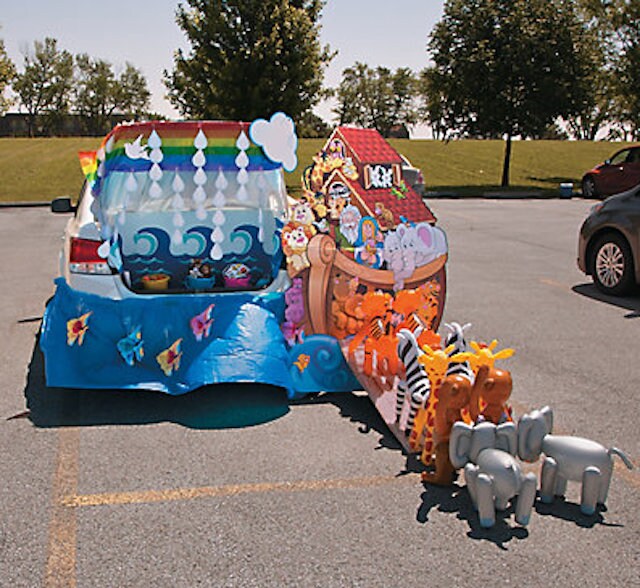 Noah's Ark
Watch all the animals come on board your trunk! To create this scene:
Hang up the Water Background and the Wave Wall Decoration inside the vehicle as a backdrop.
Add the blue table skirt to the base of the vehicle. Fasten with tape. Hang the tropical fish onto the base of the vehicle.
Hang the rainbow cloud decoration and lovebird dove onto the trunk door of the vehicle.
Assemble the stand-up and arrange it outside of the vehicle. Use a scrap of cardboard from the stand-up box to create a ramp. Cover the ramp in the wood plank tablecloth and adhere it to the stand-up.
Inflate the animals and place them on the ramp. Don't forget to put candy or toys inside the trunk!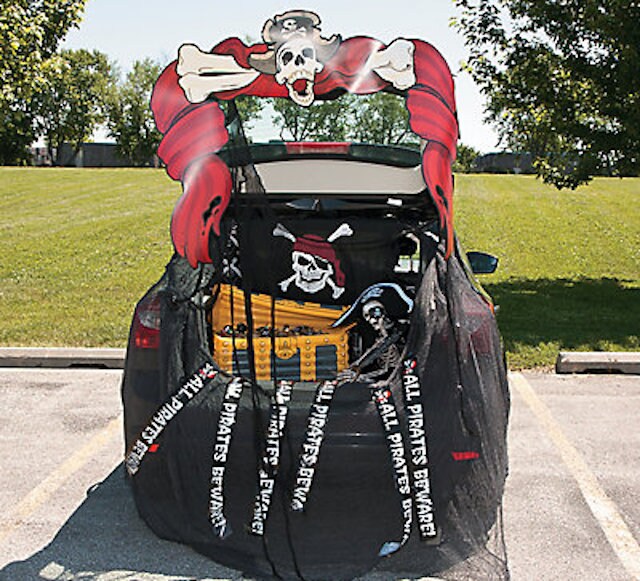 Pirate Ship
Ahoy there mateys! Come aboard this ride and you'll find plenty of booty!
Line an open trunk and base of the vehicle with creepy cloth.
Tape the door curtain and pirate flag to the top of the trunk.
Inflate the treasure chest. Place the chest inside of the trunk and fill it with candy or toys. Add a skeleton inside of the trunk and dress him like a pirate.
Decorate the rest of the trunk with pirate boundary tape.
We are so excited to see what you come up with! From everyone from Tom Ahl Buick GMC, we wish you a happy and healthy Halloween.