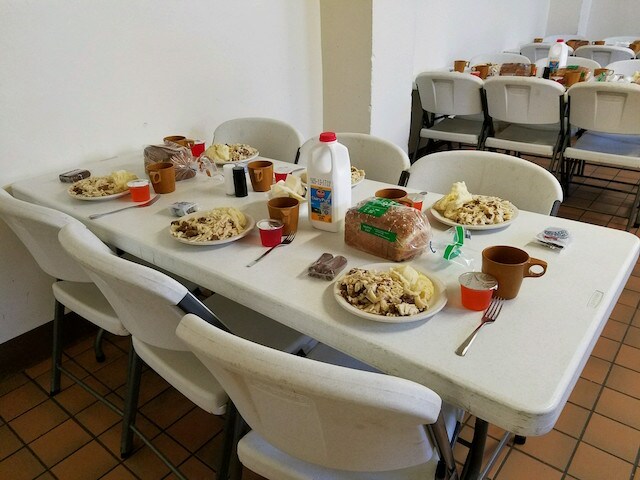 Tom Ahl and his employees headed down to Lima Rescue Mission on May 10 to help make dinner for the homeless. Local restaurants and businesses were extremely kind and donated food to the organization. Besides the Rescue Mission staff, Tom Ahl and his employees prepared, cooked, and served food for 31 homeless men. They also ensured the tables were set and cleared afterwards. Tom Ahl and his employees enjoy volunteering monthly for Lima Rescue Mission. They will revisit the center on June 7th to once again help those in need.
Lima Rescue Mission has been coming to the aid of poor and homeless men since 1906. In addition to providing physical necessities, Lima Rescue Mission provides spiritual needs for men in desperate need of a helping hand. Besides preparing warm meals, volunteers also help provide clothing, shelter, chapel services, classes, Bible studies, and spiritual counseling. Moreover, the Mission ministers hosts an at risk youth summer day camp called Camp Roberts. Their goal is to create a safe environment that will promote positive life changes.
Tom Ahl and Staff Loves the Lima Community
As a strong Christian believer, Tom Ahl has dedicated his life to helping others in his community and providing aid for those less fortunate. The staff at Tom Ahl Buick GMC dealership finds many ways to give back to their town that they love so much.Tom Ahl thought he was going to become a missionary and spread the word of Christ. Instead, he wanted to help his fellow neighbors and make a difference in the town he lives in. He and his employees have played vital roles into instituting programs like Star Spangled Spectacular and starting a series of Christian concerts in the area. Some guest performers include Newsboys, Big Daddy Weave, and Rend Collective. Tom Ahl is always joyful when he talks about his work with Heartbeat of Lima.
"These are organizations that really make a difference in people's lives." Tom Ahl said.
The moment you visit a Tom Ahl dealership, you will be greeted with a friendly smile and warm welcome. The employees truly cares about everyone who walks through the front doors and wants to make a difference in your lives. For any questions about our current models, contact us at (888) 263-9037.
If you would like to help Lima Rescue Mission, please visit their website to make a donation or to volunteer.